Choose the Best Dumpster Rentals Wichita KS
Are you looking for the best dumpster rentals Wichita KS has to offer? 316 Waste Solutions is a local company on a mission to help our customers clean up their property with experienced, affordable, and reliable options for a dumpster rental in Wichita. We are dedicated to consistently improving our practices to make your waste management solutions easier and more convenient. With our team of professionals, we provide round-the-clock expert advice and online scheduling for waste removal for your next project. There's no need to spend hours searching for the perfect rental when booking with us because our goal is to provide high-quality bins at the best dumpster rental prices Wichita KS can offer for all projects. 
When it comes to finding high-quality dumpster rentals Wichita KS homeowners, contractors, and businesses can depend on, the choice is clear with business in the Sedgwick County community. As a local business, we understand and prioritize what Wichita, Kansas residents need. By working with our team of experts, you're supporting a small, family-owned and operated business that has been uplifting our community for many years with the utmost care and skill. There is nothing that our high-quality dumpsters can't handle. The best part? We always do our best to work within your timeframe and budget to help support your project goals.
Finding dumpster rentals Wichita KS residents can rely on is no easy task. That's why we offer straightforward pricing, convenient online scheduling, and a wide range of sizing options to help you through the entire dumpster rental process. Our team cares about your project and is eager to help you get started. We'll provide a custom quote or pricing based on your needs. You can be confident in the fact that any problem that comes up during your dumpster rental in Wichita Kansas process will be handled by experts who care. We're here to make dumpster rental, junk removal, and all other waste services easier for you to manage. Make the easy, convenient, and best decision by choosing us for your dumpster rental needs.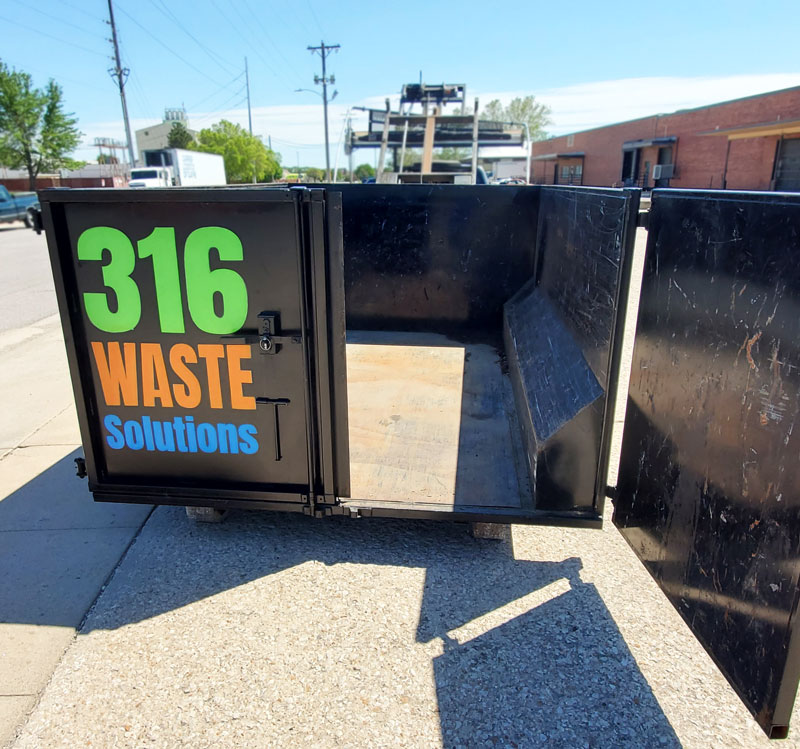 Various Convenient Uses for a Dumpster Rental Wichita KS Can Depend On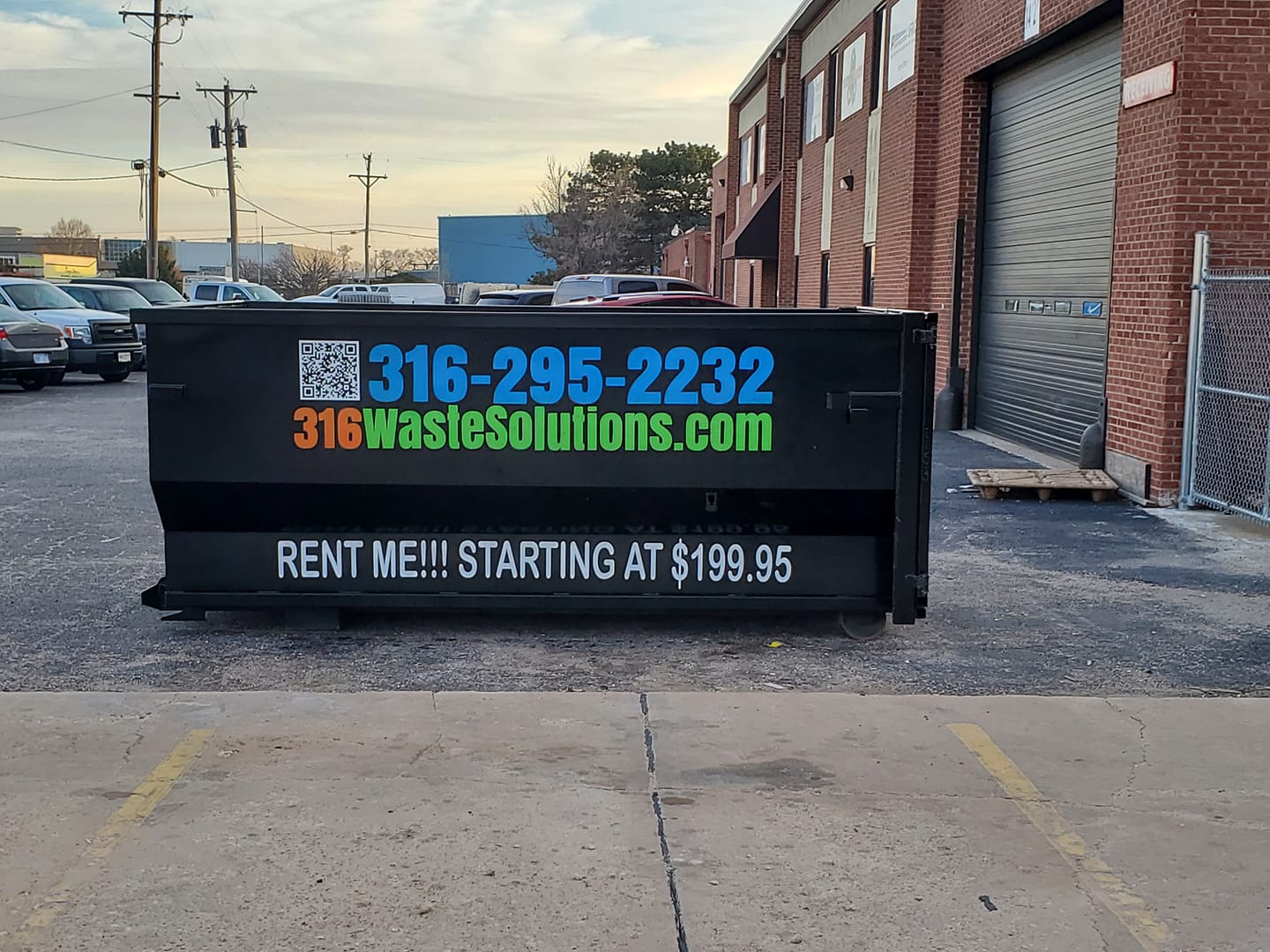 There are countless reasons why you should consider a dumpster rental Wichita KS uses for all projects to help support your upcoming residential or commercial endeavors. Our industry-leading roll-off bins are designed to efficiently handle a broad scope of waste disposal needs. Whether you're beginning a small home remodel or trying to dispose of large construction waste, we guarantee you will be happy with our large selection of premier dumpster Wichita rentals for any size project. 
We understand waste disposal should be handled properly, which is why we regularly partner with Brooks C&D Landfill and implement sustainable, responsible removal practices. We always abide by all city, county, and state regulations when disposing of your waste. When you choose 316 Waste Solutions, you are choosing a company that cares about your city's environment. We're proud to do our part in keeping our city clean and properly cared for.
We have the most reliable and affordable dumpster rental Wichita KS services the city has to offer. With our team, you're guaranteed to find a high-quality dumpster to suit the needs of your next project. Our trash dumpsters Wichita KS residents and businesses trust can handle simple attic cleanouts, yard waste management, and even commercial foreclosure cleanups. When you choose us, you're choosing a team of experts ready to take on your waste disposal needs with expertise. Call (316) 295-2232 to book your dumpster rental today!
Residential Wichita Dumpster Rental that Homeowners Can Rely On
Whether you're tackling a new room remodel or just trying to clear out the garage's growing clutter, our Wichita dumpster rental is perfect for your next residential project. We offer a wide range of high-quality dumpsters that are sure to fit your upcoming repair, remodel, renovation, or cleanout needs. Sometimes, personal household trash bins are just not enough for your home projects, which is why we are here to take care of the problem! 316 Waste Solutions is your one-stop shop for your next home improvement project!
Why do residents trust us for their Wichita KS dumpster rental needs? The answer is simple: we make the process easier than you could ever imagine. Besides having our qualified staff there every step of the way, we also have a user-friendly online booking system that makes it convenient and hassle-free to schedule a roll-off from the comfort of your home. We know how frustrating DIY and repair projects can be, which is why we are dedicated to taking the stress out of the waste hauling process. Book with us today and get started on that home project you've been dreaming of. Just fill up your bin, let us know it's ready, and we'll get it out of your hair in no time.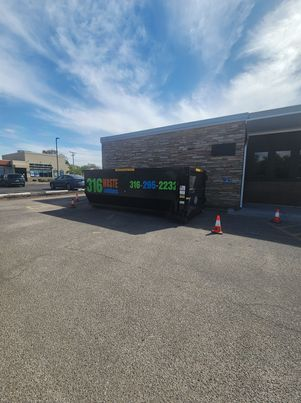 Durable Yard Waste Dumpster Rental in Wichita KS for Outdoor Projects
When the yard waste is piling up and it's difficult to see your lawn anymore, it's time to book our dumpster rental in Wichita KS. Our containers are built to manage all of your yard waste in one fell swoop. Whether you're cleaning out the gutters or cleaning up after a storm, we're confident our roll-off options will be a beneficial addition to your next outdoor project.
Are you in charge of that next family reunion? Leave it to us to help get your yard under control so you can enjoy some cornhole games and lunch on the patio in your yard. Whether you need to clean out your flower beds, do some patio renovations, or just clean up the brush after a long year, our dumpster rentals can handle the job. Cleaning up your yard and increasing curb appeal is a walk in the park with our rentals. Use our online booking system today to get the roll off dumpster rental in Wichita you've been waiting on!
Local Dumpster Rental in Wichita for Construction
Construction sites are no place for unreliable waste bins, which is why our local dumpster rental in Wichita provides durable and reliable options for construction sites all over Sedgwick County! If you are a leading contractor on a project site, you know the importance of having the most reliable construction debris dumpster rental Wichita has to offer to handle your large and bulky items. We are confident that we carry the perfect container to keep your project streamlined and moving forward.
Our variety of construction dumpster Wichita KS rentals will make convenient and durable additions to your job site. We offer various sizes to ensure our dumpsters can handle the waste coming from your construction site, including drywall, lumber, tiles, shingles, plastic, and more. Our dumpsters Wichita KS contractors depend on were built to handle the wide range of materials that come with a construction site, which is why contractors trust us with their waste management needs. Our expert staff is here to answer any questions regarding what materials our dumpster rentals can haul away. Give us a call today at (316) 295-2232 to see what options we have for construction dumpsters Wichita KS trusts for your next project.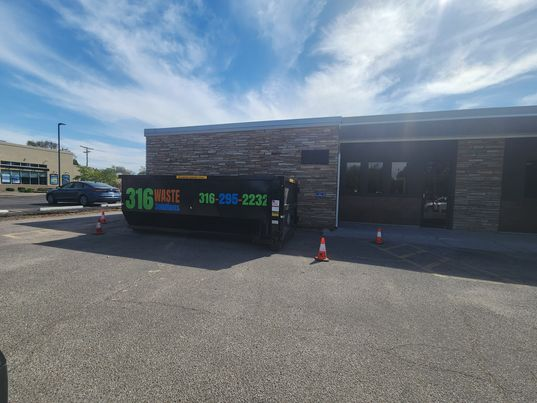 Commercial Trash Dumpster Rental Wichita KS Business Owners Depend On
Choose the commercial trash dumpster rental Wichita KS business owners depend on and book our bins today for a timely and affordable rental process. Whether it's a one-time solution for a cleanup job or a Wichita dumpster rental month to month, 316 Waste Solutions is the company for you! We make getting waste hauled away easy for your small business. We know how much time it takes to run a company, which is why we take pride in our timely delivery and quick dumpster rental pick-up.
The space in your business is important for not only your employees but also your customers, guests, and residents. It's time to pick up the phone and rent a dumpster Wichita trusts with us today! We can provide trash bins that are equipped to handle the mess that accumulates over time in an office building or to help prepare for a new building addition, general construction work, or to manage a foreclosure. We regularly work with office managers, property managers, leasing agencies, daycare facilities, warehouses, school districts, and more to provide expert trash dumpster rental Wichita KS options. With a wide range of dumpster sizes, we have the perfect trash dumpster rental in Wichita to handle your next commercial project. Call or book online today!
How to Book a Dumpster Rental Wichita Trusts
Online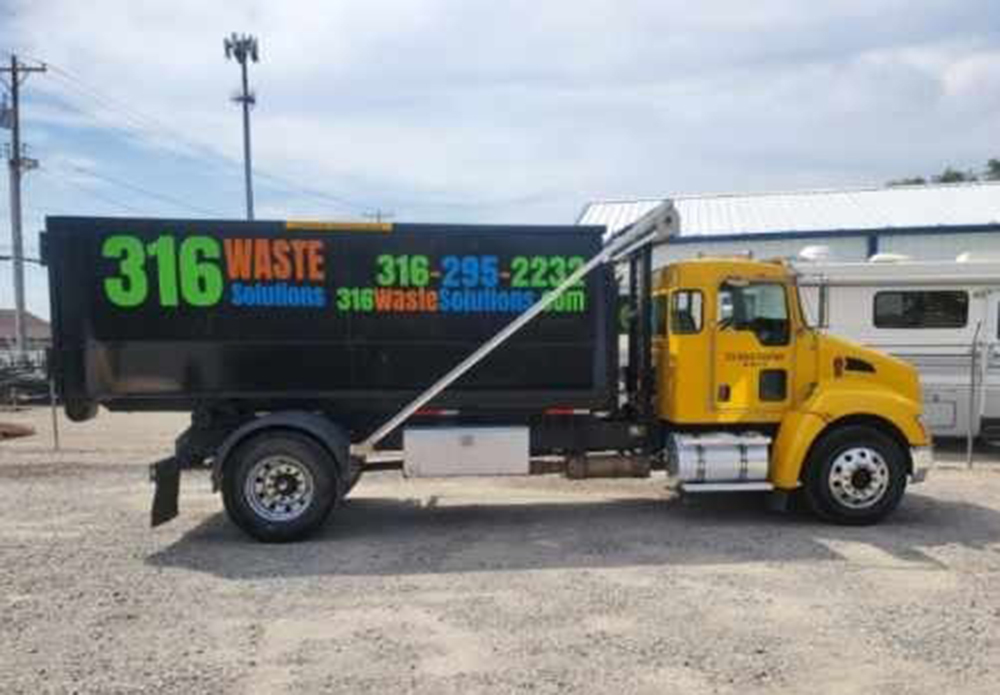 Are you ready to book the dumpster rental Wichita uses to support a range of projects with the best of the best today? Booking a roll-off rental has never been easier than with 316 Waste Solutions! We know renting a bin can be a stressful process, which is why we made the job hassle-free. With our online booking system, it doesn't take a dumpster expert to book a rental.
The steps to reserving your Wichita KS rent a dumpster are easy: At the top of the home page, click the blue "rent a dumpster online" button. This will bring you to a page where you can view the various sizes of dumpsters Wichita, KS residents and business owners rely on. Once you make a decision on which dumpster is right for your project, click the orange "Book Online Now" button underneath the dumpster you want. From there, it will give you some more details about the dumpster, and once you are satisfied with those prices and dimensions, you can click the orange "Book Now" button. Once you click the orange "Add to Cart" button, you will then choose your rental dates and click the orange "Checkout" button. After you fill out your billing information and details about where to place the dumpster Wichita KS relies on, the dumpster is yours! From there, we will bring your dumpster to you, you fill it up with all your junk, and we haul it away. It's that easy! We also offer experienced and reliable junk removal services for all of your waste disposal needs.
Sizes & Prices to Rent a Dumpster Wichita KS
316 Waste Solutions has the sizes and prices to rent a dumpster Wichita KS depends on for any project you may have! Our large selection of dumpster rentals can handle any job, no matter how big or small it may be. We have one-of-a-kind dumpsters in Wichita KS that are equipped to handle any waste you may toss in them. We understand how important it is to be able to find a dumpster rental to fit your project's needs quickly. The next time you need a roll off dumpster Wichita KS counts on, choose the team at 316. 
Our smallest dumpster size we have to offer is a convenient and easy-loading 15-yard dumpster. This Wichita dumpster has a few rental options to choose from. The first dumpster rental is a quick drop and load option with a rental time of 45 minutes. This is great for a quick waste haul-off and starts at only $199.95. We also offer a short 24-hour dumpster rental starting at a low price of $239.95. For longer rental options, our 15-yard dumpster can be rented for a 3-day rental period at a low price of $289.95 or a 7-day rental period for $319.95. We offer an abundance of rental opportunities to ensure a perfect fit for your project. 
If you need a little more space for your waste, our 20-yard dumpster rental Wichita KS depends on could be the one for you. Our dumpsters Wichita trusts are loaded over the top or through the rear doors near ground level, making it easy for you to dispose of waste. This dumpster is great for medium-sized residential and commercial projects. Our 20-yard dumpster rental prices Wichita KS customers appreciate are kept low to make renting a dumpster easier for you. The first rental option is a quick drop and load option with a rental time of 45 minutes. This is great for a quick waste haul-off and starts at only $299.95. Our 24-hour dumpster rental is also the same price but gives you a little more loading time. For longer rental options, our 20-yard dumpster can be rented for a 3-day rental period at a low price of $329.95 or a 7-day rental period for $349.95.
The largest dumpster we offer is a 25-yard roll-off. This large dumpster rental Wichita KS contractors depend on can carry up to 6,000 pounds of waste, making it perfect for those large construction site cleanups or full foreclosure cleanouts. The first rental option for our 25-yard dumpster is a quick drop and load option for $349.95. Our 24-hour large dumpster rental Wichita, KS depends on starts at a low price of 399.95 and is perfect for a full-day project. For longer rWhat does the flat rate cost include?ental options, our 25-yard dumpster can be rented for a 3-day rental period at a price of $409.95 or a 7-day rental period for $429.95. Our company is dedicated to creating the best dumpster rental prices Wichita, KS has to offer. We have tons of rental options to choose from, so book yours today!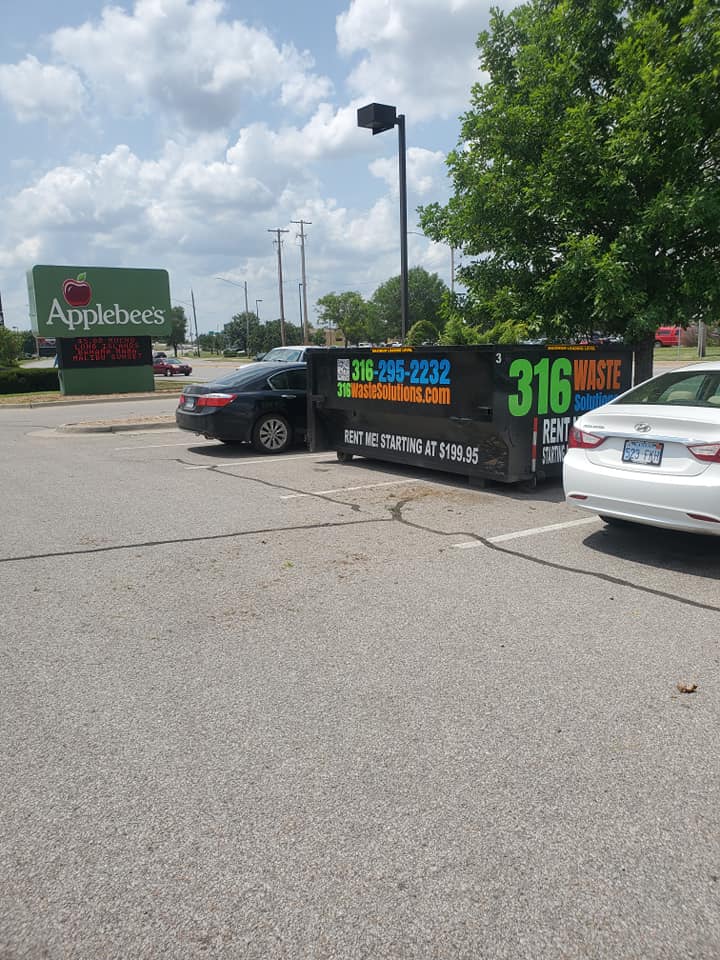 FAQs for Roll Off Dumpsters Wichita, KS
We understand that you may need additional information about roll off dumpsters Wichita, KS home and business owners rely on before booking your rental, which is why we've created a list of frequently asked questions. This information is here to help you during your dumpster rental in Wichita, KS process. If you have any additional questions, reach out to our staff today, who are eager to assist you with this process.
What items are not allowed in our roll off dumpsters Wichita, KS?
Concrete, paint, hazardous waste, dirt, rock or gravel, oil, shingles, refrigerators, freezers, window AC units, and any "white goods" containing freon are not allowed in our dumpster rentals.
What does the flat rate cost include?
We have no hidden fees here at 316 Waste Solutions. We offer upfront and competitive pricing. We know you may be looking for a cheap dumpster rental Wichita KS can depend on, but our prices come with reliable bins and outstanding customer service. The rental price includes allowable tonnage depending on the size chosen, drop off within Wichita and surrounding areas and pick up and disposal of what's in the dumpster according to the Wichita KS dumpster service you choose. There is no need to call and schedule a pick-up and no need to be home when we deliver or pick-up. We also offer customizable delivery options. If you need more information on our dumpster prices Wichita Kansas customers appreciate, give us a call today!
Are there overage fees for your rentals?
Yes, we do have overage fees that may apply. Our overage fees include $100.00 per 2,000 lbs overage. If the load is over 4 tons (8,000 lbs), there will be an Excessive Weight Charge of $175.00 added. $25 for each mattress and box spring. Size doesn't matter. $10 for each car tire. It's $100 for each appliance containing freon. Additional fees will be added for waste stacked over the rail and if there are any items inside that are not allowed. Although we have overage fees, we still try to offer the most affordable dumpster rentals in Wichita and are always transparent about those costs.
How do I book a dumpster rental near me Wichita?
Book online using our easy-to-use Dumpster Rental Form. If you're in need of an immediate dumpster roll off service Wichita KS relies on, please call us at (316) 295-2232. We offer custom, detailed quotes based upon the material to be disposed of, duration, and other factors. If you are searching for "how much to rent a big dumpster Wichita KS", get straightforward pricing depending on the volume, weight, and duration of the rental with us. Schedule local Wichita dumpster delivery with a quick turnaround available! Schedule your preferred delivery and pickup window times and our professionals will be there.
If you need additional information about our dumpster rental Wichita Kansas trusts, give us a call or browse our website!
Providing Roll Off
Dumpster Rental Wichita KS & Surrounding Areas
When you're ready to start your next project, choose 316 Waste Solutions for your dumpster rental Wichita needs. We are dedicated to making your life easier when it comes to renting a dumpster for your next project. In Sedgwick County, we proudly service the following zip codes with our durable dumpster bins: 67202, 67203, 67204, 67205, 67206, 67207, 67208, 67209, 67210, 67211, 67212, 67213, 67214, 67215, 67216, 67217, 67218, 67219, 67220, 67221, 67223, 67226, 67227, 67228, 67230, 67232, 67235 and 67276. 
We are dedicated to keeping our communities clean and waste-free. We're proud to do our part in keeping our favorite outdoor places like Sedgwick County Park an enjoyable and clean environment. To keep our communities clean and waste-free, we extend our dumpster services Wichita KS to the following surrounding areas: Valley Center, Park City, Maize, and Haysville. If you don't see your zip code or city listed, don't worry. Give us a call and let us know because we frequently deliver to areas even farther out and special accommodations can sometimes be made to help with your roll off dumpster rental Wichita process.
Reviews for our Roll Off Dumpster Wichita, KS
316 Waste Solutions is here to help you choose the best roll off dumpster Wichita, KS has to offer. Choosing a reliable and efficient dumpster is important when it comes to your projects. Our easy online booking system allows you to quickly rent a roll off dumpster Wichita at any time of the day from the comfort of your own home. Whether you're a returning client or a new client, you won't be disappointed when renting a dumpster from us.
We take pride in making our customers feel great about their roll off dumpsters Wichita KS rental. Our dedicated staff of experts loves providing a positive experience for our customers and we look forward to hearing from them after the process is over. Take a look at some of our favorite quotes from satisfied customers who trusted us with their waste management needs:
"Very nice people, great job. Very helpful on picking up and dropping off a new dumpster as I needed one the same day. Highly recommend this company."
"Fast, Efficient, and friendly staff serving your waste collection needs at a very reasonable price. Will utilize their services again."
"I am very pleased with their service. They delivered on time and promptly picked the container up Monday morning. Their containers are clean and with the end opening so you can walk into the container was a benefit for me. I recommend 316 Waste Solutions."