About 316 Waste Solutions: We are a local company on a mission to help others clean up their properties with expert waste removal and dumpster rentals
Alex went to the dump with a trailer full of waste, where he saw quite a few trucks and trailers dumping waste. He couldn't help but think how convenient it would be to have a large dumpster delivered to a home or business that the customer could load and then the waste be hauled off. That night, Alex came home and said he was going to buy a trailer and a couple of dumpsters. I thought he was crazy! But, I supported him. We started 316 Waste Solutions with a gooseneck trailer and 6 dumpsters. Today, we have a large inventory of various sized dumpsters and a hook lift truck.
Alex and I started 316 Waste Solutions because we saw a need for a faster and more convenient waste disposal option for people in Wichita and the surrounding areas. We are grateful for the opportunity to serve our community. It is rewarding to service local businesses and residences in need of a quick and easy way to dispose of a lot of waste at one time.
We pride ourselves on providing the absolute best customer experience every time. We know cleaning out loved ones home, spring cleaning, moving and home remodeling can be stressful, we do our absolute best to make the process run smoothly.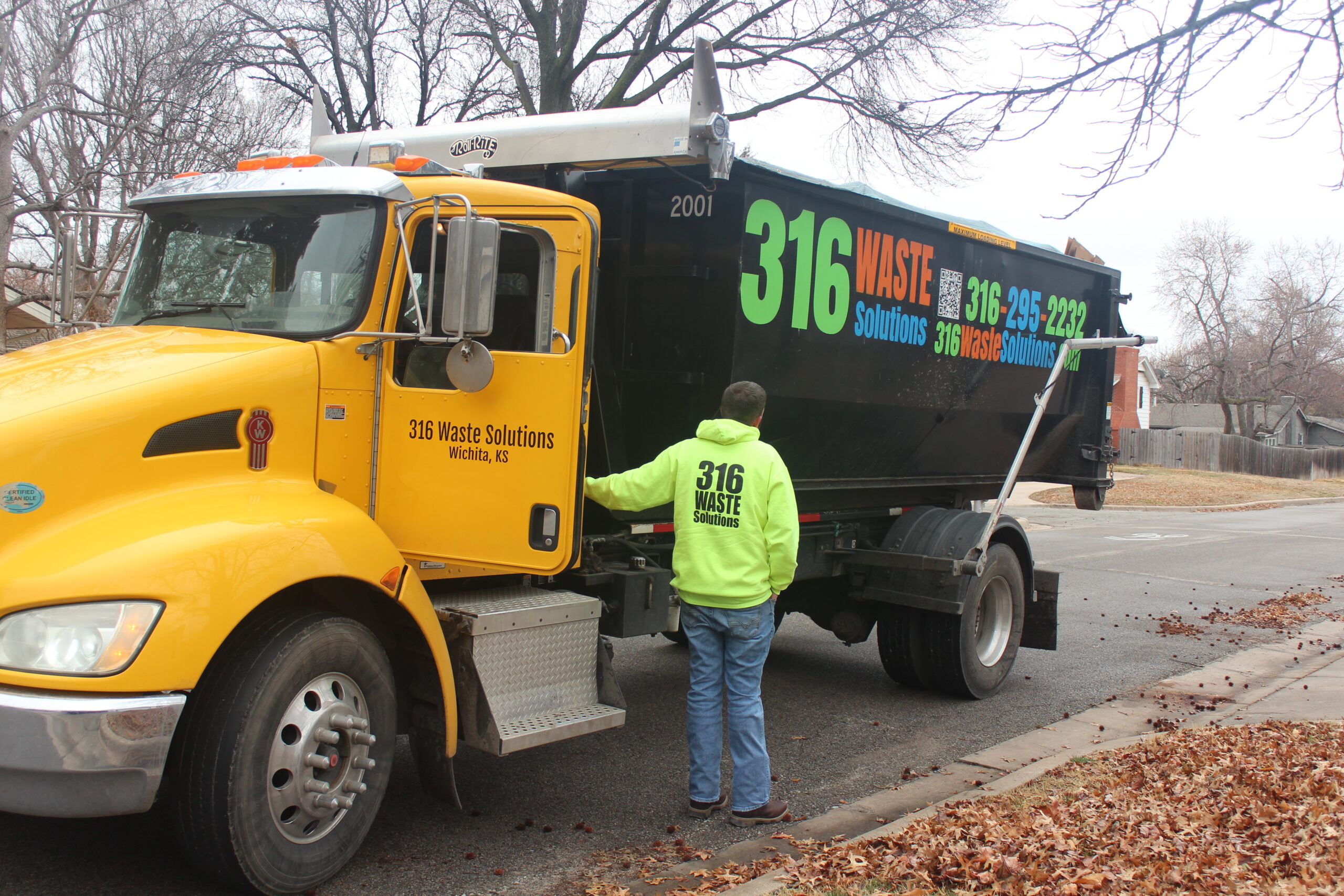 What 316 Waste Solutions Does?
We rent dumpsters to anyone in need of a dumpster for any size project! We have three sizes and various rental periods available to meet our customers' needs. We are there for our customers in a pinch. We can often deliver the same day!
Why choose 316 Waste Solutions?
We are locally owned and family operated. We strive to provide the best customer service to every customer, every time. We answer our phone 6 days a week 7am to 6pm. We do our absolute best to meet our customer's individual needs.
We understand things such as remodeling projects, moving, church clean outs, rental home cleanouts, cleaning out family members homes can be stressful, but don't worry, we are here for you. We do our best to make the rental process seamless and as easy for our customers as possible.
What makes 316 Waste Solutions Different?
We answer the phone every time, and if we miss your call, we return every single phone call before close of business that day.
Rather not talk to us on the phone? That's okay! We offer 24 hour online booking! You won't have to talk to us on the phone. We know everyone is busy and we have made our rental processes quick and easy.
We only use approved disposal methods. 
We are the home of the ORIGINAL swap out. What is a swap out? If you rent a dumpster and fill it before your rental period ends, but your job isn't done; and you need another dumpster; we bring you another dumpster with included tonnage; the original rental dates remain the same for the swap out. A Fee Applies for this service.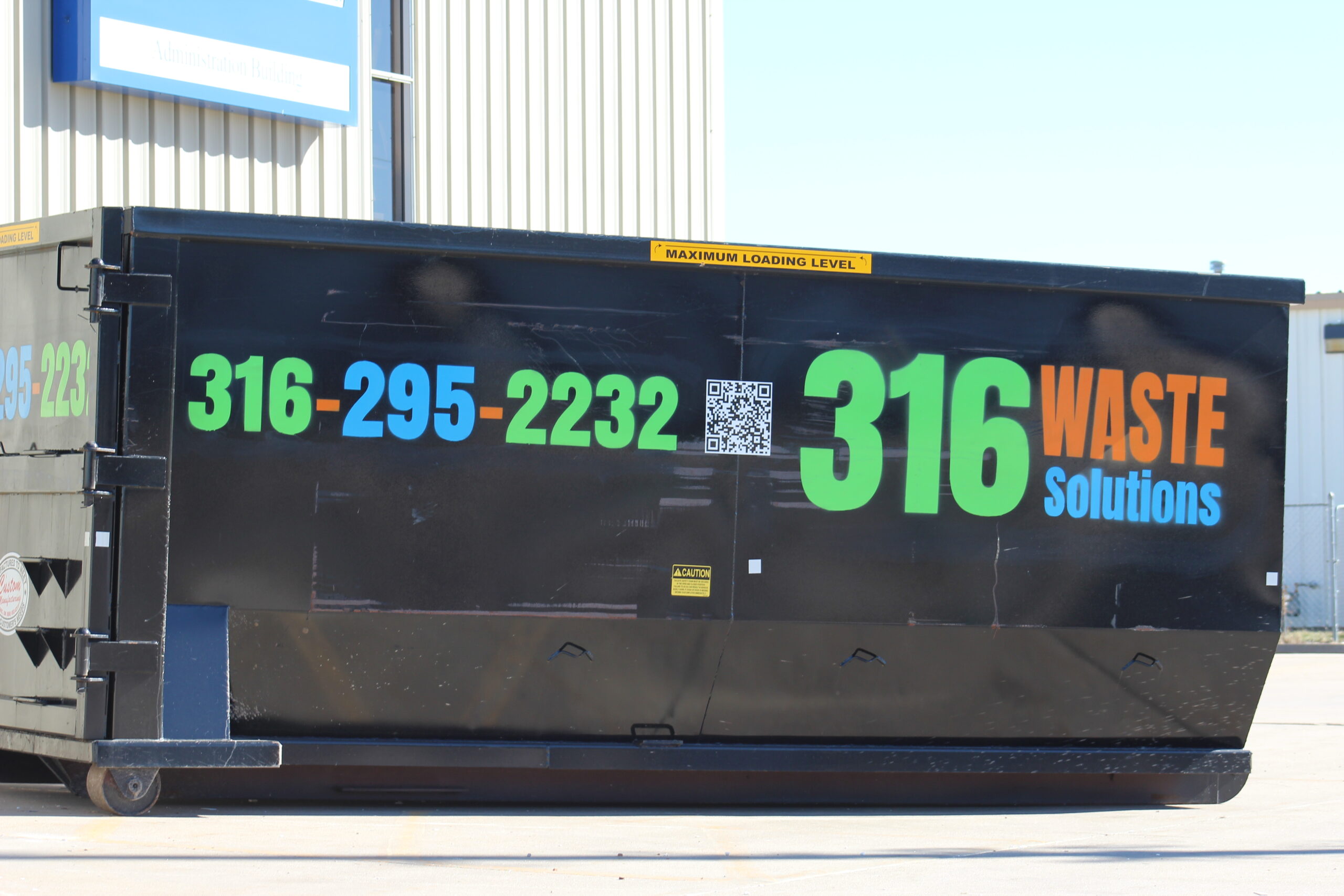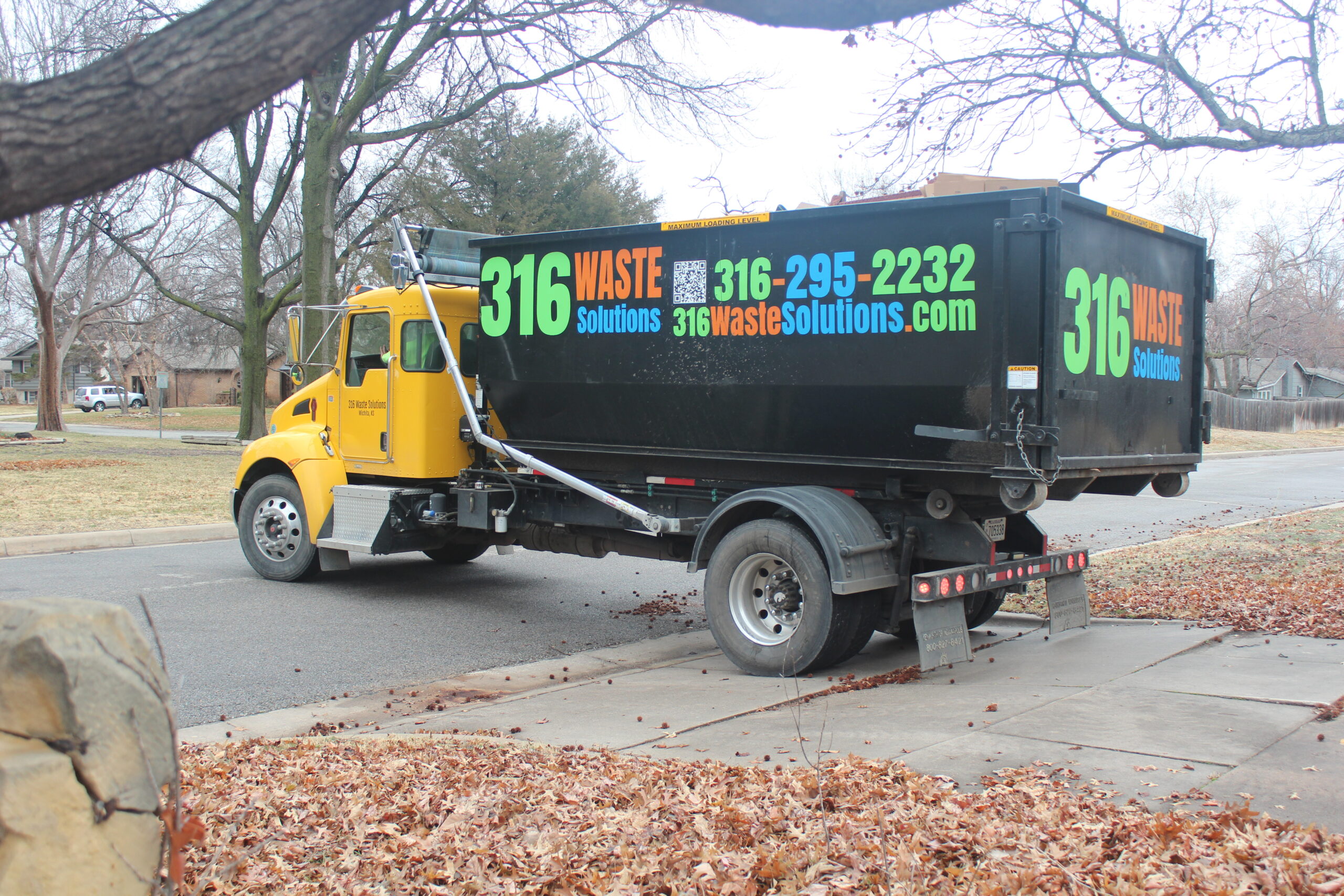 316 Waste Solutions 
– Locally Owned and Operated
– Best Customer Service in Town 
– Most Affordable Price in the area
We are located in Wichita, KS, and we are happy to serve this community. We provide dumpster rentals and clean out services in Wichita and the surrounding areas. At 316 Waste Solutions you will not find any surprises, we have upfront pricing and friendly staff to make the rental process as easy as can be. We specialize in working with customers to get projects completed. We offer the best prices in town. Our rental prices are all inclusive. 
We offer three dumpster sizes and various rental periods to meet each customer's unique needs. Please give us a call today if you have any questions 316-295-2232.