Best Junk Removal Haysville KS
Are you looking for a junk removal Haysville KS company to take care of the junk accumulating in your space? 316 Waste Solutions is a local company dedicated to helping others clean up their space with Haysville KS residential waste removal. We are dedicated to consistently improving our company and our practices to make your junk removal solutions easier. With us, we provide round-the-clock expert advice and easy online instant quotes for junk removal. You shouldn't have to break the bank to declutter your space, so with our team, we guarantee to keep our prices low and our standards high!
Finding reliable junk removal Haysville KS experts can be difficult, but rest assured that with our company, the process is easy. We offer yard waste removal Haysville KS and junk removal for spring cleaning, tree limbs, debris, pallets, and other unwanted materials in Haysville, Kansas. If you have something on your property you want disposed of, we can help! Finding a quote for your junk removal is simple: you can either send us a picture of your junk or we can schedule an in-person estimate. We'll come to clean up your property and haul away the junk and unwanted items. Sit back, relax, and let us do the heavy lifting for you!
There is no project too big or too small for our junk removal Haysville KS company! Our junk removal specialists understand what it takes to declutter a space and we are eager to help get your home into the shape you want it. From large appliances to furniture removal Haysville KS, our specialists can handle it all. We're prompt, professional, and will save you time and energy by handling the mess on your behalf. Let us do your dirty work! Contact us today at (316) 295-2232 to inquire about a price for your next Haysville Kansas debris removal project!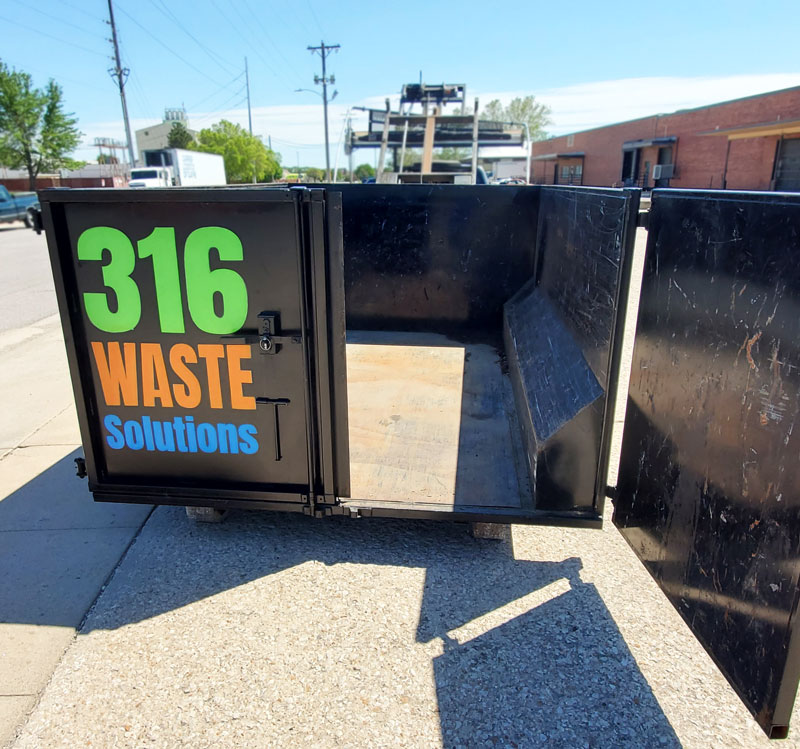 Why Choose Us for Your Junk Removal Haysville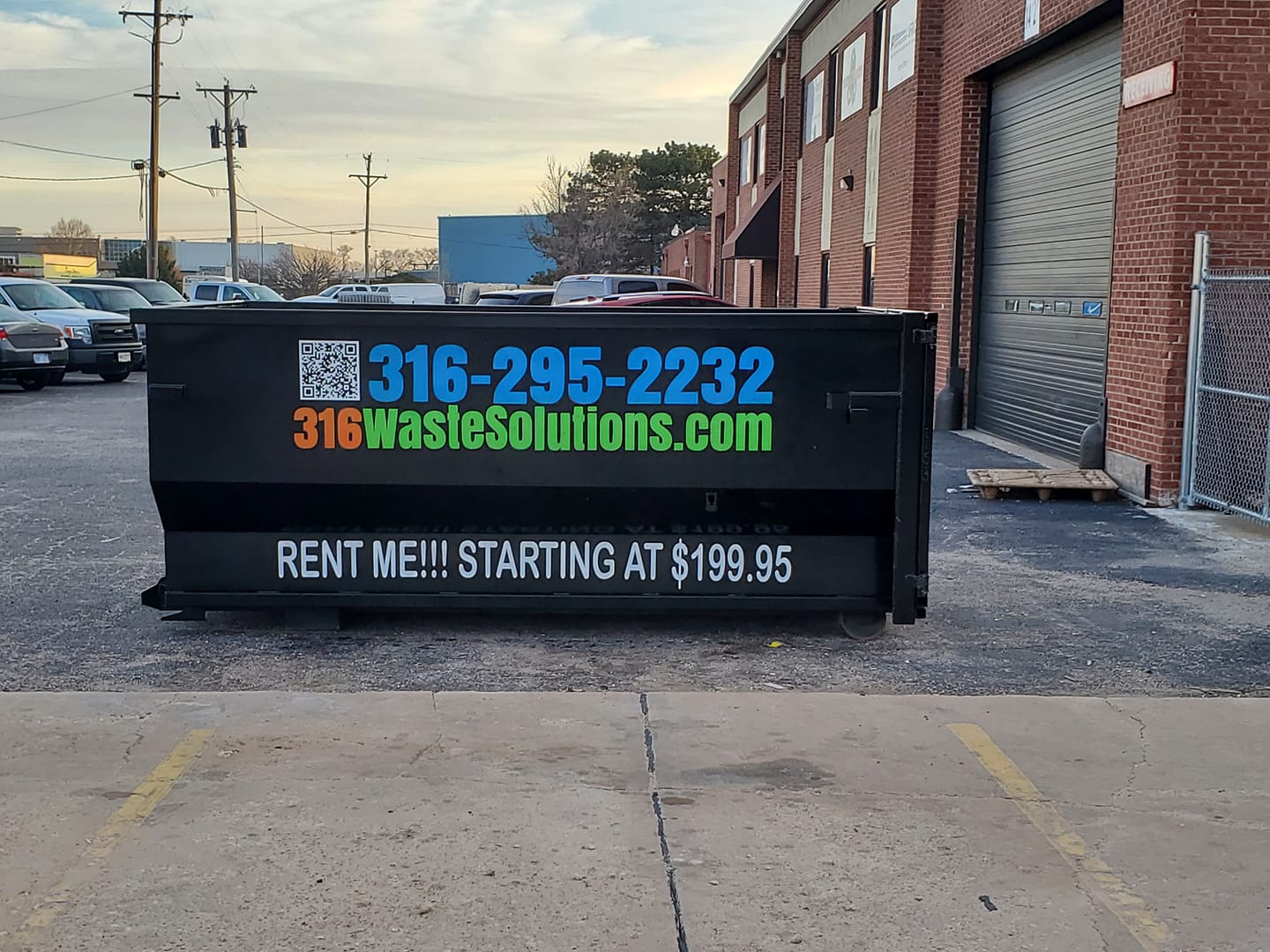 We are the local junk removal Haysville company that makes your life easier when it comes to getting clean and organized. Whether it's unwanted furniture and appliances or junk car removal Haysville KS, 316 Waste Solutions is the company for the job. We will remove unwanted junk from your home with speed and care. We provide specific quotes for each project to fit your exact needs to get the job done right the first time.
We know how important it is to dispose of junk properly to keep Sedgwick County a clean community. All of the junk we haul away is disposed of in a professional, eco-friendly, and secure manner. We follow the best practices when it comes to disposing of junk by frequently partnering with Brooks C&D Landfill to ensure all waste is disposed of in accordance with city, county, and state regulations. Our goal is to provide efficient and affordable junk removal Haysville Kansas services for our communities. Our junk removal experts are reliable and friendly, making your life a lot easier. With us, you get to sit back and relax while we do all the heavy lifting. Call (316) 295-2232 or browse our website to get a quote for your junk removal project today!
What Can We Accept For Waste Removal Haysville
Waste removal Haysville just got a lot easier with 316 Waste Solutions. We haul away just about anything you throw at us. Some of the junk we haul away includes appliance pickup, construction waste, electronics recycling, foreclosure cleanouts, hot tub removal, refrigerator recycling, junk car removal Haysville and yard waste removal. If you've got items that need to be removed, cleaned out, or picked up, our team can take care of it!
The best part about our waste removal Haysville KS company is that we quote everything on a case-by-case basis. We understand that not every project is the same and to make our services affordable, we quote you based on your specific needs. Our furniture removal services Haysville are great for large cleanouts or even just a few items. We service junk removal projects of all sizes! Book your expert movers and junk removal Haysville KS service with a company you can trust. We also offer affordable, reliable, and durable dumpster rentals to serve a wide variety of project goals if you'd rather load the junk yourself. Call today or submit our online form to receive your free estimate!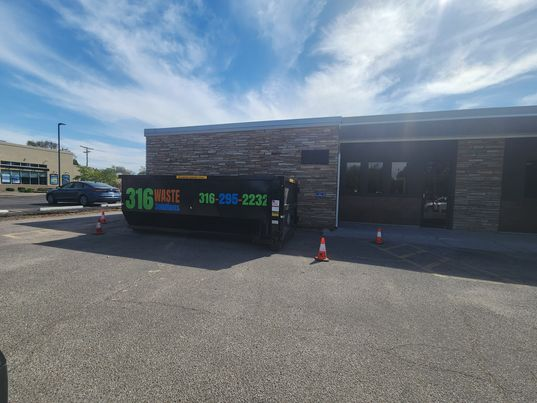 How to Book with our Haysville Junk Removal
Experts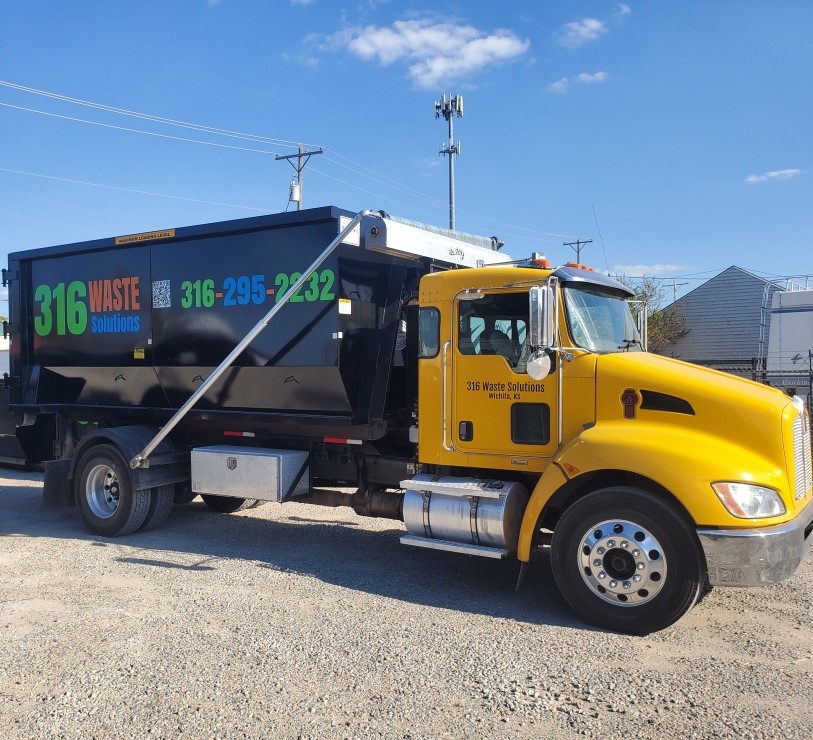 Are you ready to book with our Haysville junk removal experts? With 316 Waste Solutions, the booking process is not only simple, but it's also affordable. We understand your time is valuable, which is why we promise to get your junk removal in Haysville Kansas service booked quickly. Our junk removal quotes are customizable based on your project so you never have to pay more than you should.  From one chair to a whole house full of items, our team can remove junk from your property with speed and care. We'll haul it off and dispose of it for you – it's that easy!
Booking a Haysville junk removal service with our experts is easy as can be. Click on the blue "Junk Removal" tab at the top of the page. This will bring you to our junk removal Haysville, KS page where you can browse different specifics for each type of service. Once you have an idea of what our experts can do, scroll down to the bottom of the page and find the orange "Contact Us" section. From there, answer a few questions on our user-friendly contact form and hit the blue "Contact Us" button. You should hear from a specialist in no time.
If booking online isn't your thing, no worries! We also provide instant quotes over the phone. The process is simple: give us a call at (316) 295-2232. From there we can discuss a little bit more about the junk or trash and tree limb removal Haysville KS you need to be removed. One of our specialists will be there to guide you through the process. We can then either schedule a free site consultation or we will request pictures of the items you'd like removed to come up with the best price for you. Once all is settled, we will simply get your project scheduled and let our experts take it from there!
Trash Removal Haysville KS FAQs
We know how frustrating it can be trying to book a trash removal Haysville KS service. Not everyone is a junk removal expert, which is why we are here to help. We've created a list of frequently asked questions to help guide you through your junk removal booking process. If you have any additional questions, reach out to our team of experts today who are eager to assist you with this process.
What items are allowed for construction waste removal?
Allowed construction waste items for our debris removal Haysville include sheetrock, floor boards and lumber, wood or metal studs and framing, doors and windows, and more.
Construction waste items that are not allowed include any hazardous waste or hazardous materials, paint, shingles, oil, rock, gravel, dirt or concrete.
How do you process electronics differently from trash removal companies Haysville KS?
All e-waste is processed in a professional, eco-friendly, and secure manner. We also follow best practices when it comes to electronic waste disposal and electronics recycling for the Haysville community. Reduce, Reuse, Recycle is our process of handling e-waste. First, we tag, log, inventory, and inspect all items. Then, we evaluate items to reuse or remarket. The rest we dispose of as needed. All data is also diligently destroyed for your protection.
How does the Haysville Trash Removal process work?
Enquire online or give us a call and we'll provide a custom quote. After the quote is approved, we can schedule a pickup at a time that works best for you. Then, we'll dispose of your junk. It's a quick, efficient, and easy process that saves you a lot of time and worry. 
If you need additional information about our Haysville trash removal for moving process, give us a call or browse our website!
Providing Roll Off
Dumpster Rental Park City KS & Surrounding Areas
When you're ready to schedule a junk removal in Haysville KS, choose 316 Waste Solutions for all of your junk removal needs. We are ready to help you declutter your space and make your life easier during the process. In Sedgwick County, we proudly service the following zip codes with our junk removal services: 67060. 
We are dedicated to keeping the Haysville community clean which means properly disposing of your junk. No one wants to see piles of junk loaded up on the sides of streets while taking a weekend trip to the Sedgwick County Zoo or enjoying walking through our neighborhoods. To help keep junk removal in Haysville KS under control and disposed of properly, we extend our junk removal services to the following surrounding areas: Valley Center, Wichita, Park City, and Maize. If you don't see your zip code or city listed, don't worry. Give us a call and let us know because we frequently deliver to areas even farther out and special accommodations can sometimes be made to help with your Haysville junk removal process.
Positive Reviews for our Junk Removal in Haysville
316 Waste Solutions is here to help you with efficient junk removal in Haysville and surrounding areas. Choosing junk removal experts can be difficult because you want to make sure your junk is being disposed of properly. With our team, you can rest assured that we are hauling off your junk safely. We create a fast and efficient junk removal process to ensure that we don't take up too much of your time. Your job is to sit back and watch the junk disappear and let us take care of the rest!
Our top priority is making sure our customers feel great throughout the entire junk removal process. Our team of experts is dedicated to making sure the process is hassle-free and quick. Our team loves to hear about the great experiences customers have had with our company. We want to share with you a few positive quotes from happy customers who trusted us with their junk and Haysville lawn debris removal needs: 
"316 waste solutions came out and helped take care of this mess we had. They were professionals and worked fast. Will definitely have them come out again if we do more projects and highly recommend them." 
"Fast service and very friendly. Exceeded expectations and within budget. Thank you!!" 
"Super great business to work for! Understanding and willingness to meet customer needs is an A+++++ in my books! The team went out of their way literally to accommodate my company's needs.  I will forever use them.  Like their friendly,  polite, professional attitudes."